Get the best experience and stay connected to your community with our Spectrum News app. Learn More
---
By Alex Baker Downtown Los Angeles
PUBLISHED 5:57 AM PT Oct. 29, 2021 PUBLISHED 5:57 AM PDT Oct. 29, 2021
SHARE
LOS ANGELES — Halloween is just days away, and while there are plenty of ghostly, ghoulish attractions for those of us looking for a good family-friendly fright, SoCal is also home to more than its share of chilling ghost stories, unsolved mysteries and terrifying allegedly true haunts.
Writer, comedian and podcaster Rebecca Leib gave us the inside scoop on some of the most notorious Hollywood haunt spots.
Read on… if you dare!
Cecil Hotel
Even without allegations of the supernatural, the Cecil Hotel in DTLA has a rap sheet that could send chills down your spine. Opened as a luxury hotel in 1924, over the decades, the Cecil deteriorated into a flophouse and eventually became home to not one but two serial killers, Richard "The Night Stalker" Ramirez and Jack Unterweger.
In the late '00s, the Cecil was given a hip makeover and rebranded as "Stay on Main," in an effort to attract younger guests. One such guest, Canadian student Elisa Lam, was found dead in the hotel's rooftop water tank, weeks after she'd disappeared while staying at the hotel. A spooky security cam video of her in the hotel elevator shortly before she disappeared continues to invite speculation.
"I have a friend who swears she saw Elisa Lam at Amoeba days before she died," said Leib, who co-hosts The Ghost Town Podcast with Jason Horton. "Very eerie young woman, obviously ill. The whole Cecil Hotel has a bad reputation and bad vibe to it."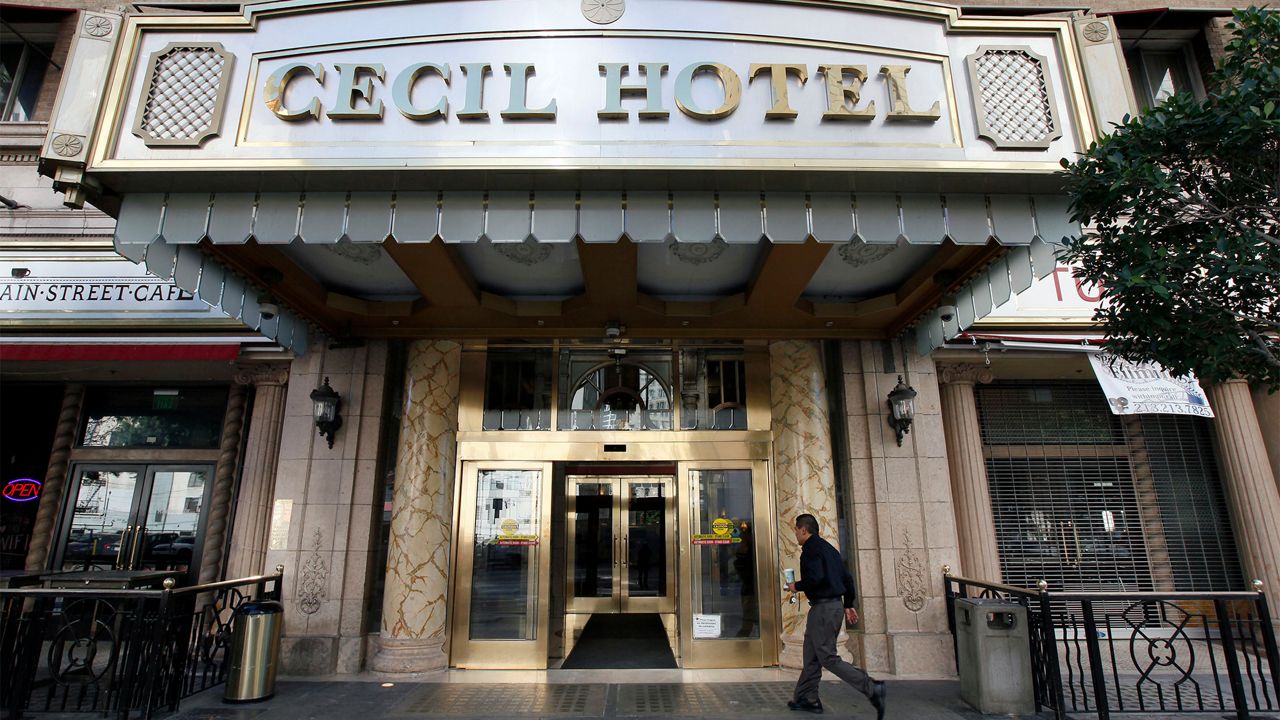 Griffith Park
Griffith Park has long been home to a host of alleged haunts. The roots of the park's supernatural phenomenon are believed to stem from a 150-year-old curse wrought on the land the park occupies in 1863 by Dona Petronilla when she learned her uncle would not be bequeathing it to her.
Paranormal phenomena reported in the park over the decades include horseback sightings of Petronilla and the park's namesake, Griffith J. Griffith, a haunted picnic table and even an infrequently sighted werewolf-like beast.
But for Leib, it's the Old Zoo on the Glendale side of the park that's the most terrifying.
"Griffith Park founder Col. Griffith Jenkins Griffith was truly insane. He shot his wife in the eye and had a fall from grace that was pretty sensational," said Leib. "He's supposed to haunt the place, but the zoo is legit terrifying and has more sightings than the rest of the park combined. Many unidentified heads (and) body parts have been found there through the years, which probably contributes to its lore."
The Hollywood Sign
Peg Entwistle may have never achieved her dreams of movie stardom, but the British-born actress with a Broadway background lives on immortally as "The Hollywood Sign Girl." After the 24-year-old starlet's contract with RKO Pictures was canceled, the story has it that on the night of Sept. 18, 1932, she hiked from her uncle's house on Beachwood Dr. to the Hollywood Sign, where she climbed 50 feet to the top of the "H" and apparently leaped to her death.
Reported sightings of Entwistle's ghost began soon after when the "H" she dove from toppled over without explanation. More recently, hikers and park rangers have reported seeing a disoriented-looking blonde woman in 1930s attire accompanied by the smell of gardenia, rumored to be the scent of Entwistle's favorite perfume.
For Leib, the Entwistle story is just one element of what makes the sign creepy.
"You probably know the story of Peg Entwistle, but like Griffith Park, lots of weird body parts turn up around the Hollywood Sign," she said. "People report being followed down the path when returning from a hike there."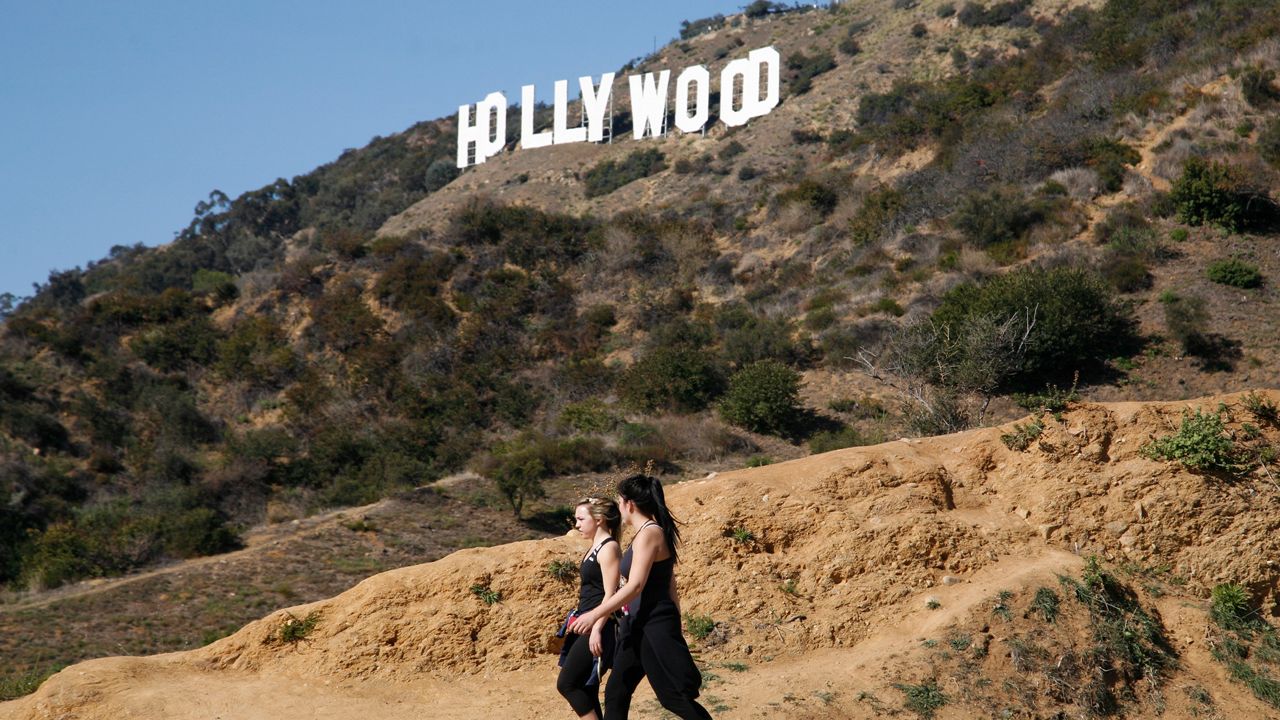 (AP Photo/Jason Redmond)
Colorado Street Bridge
Pasadena's Colorado Street Bridge was the highest concrete bridge in the world when it was completed in 1913. Not long afterward, it began to acquire a sinister reputation as "Suicide Bridge."
"The suicide bridge lives up to its name! A bunch of people died on it and lots of sensitives report having the urge to drive off of it randomly," Leib said. "It just looks creepy, especially in the early morning hours, with the lights lit."
The first known suicide at the bridge occurred in 1919, and estimations put the number of people who've ended their lives by leaping from the grandly arched Beaux-Arts construction at over 100. Even the website of the National Park Service states that "a number of spirits are said to wander the bridge as well as the Arroyo below."
The Queen Mary
A former ocean liner and WWII troopship, the Queen Mary has been moored in Long Beach since it was decommissioned in 1967. Although currently closed, it has long been a tourist attraction and historic hotel. Willfully embracing its reputation as the "most haunted hotel in America," it even made Time magazine's "10 Most Haunted Places."
According to Leib, it lives up to the hype.
"For being so high profile, it's still gotta be the most haunted spot in Southern California," she said. "My aunt was staying there at a wedding and saw two old people sitting on her bed. A former colleague filmed a special there and some of the crew quit because it was so scary."
Ghosts sighted aboard the ship include a lady in white, a sailor who died in the ship's engine room and children who drowned in the ship's pool.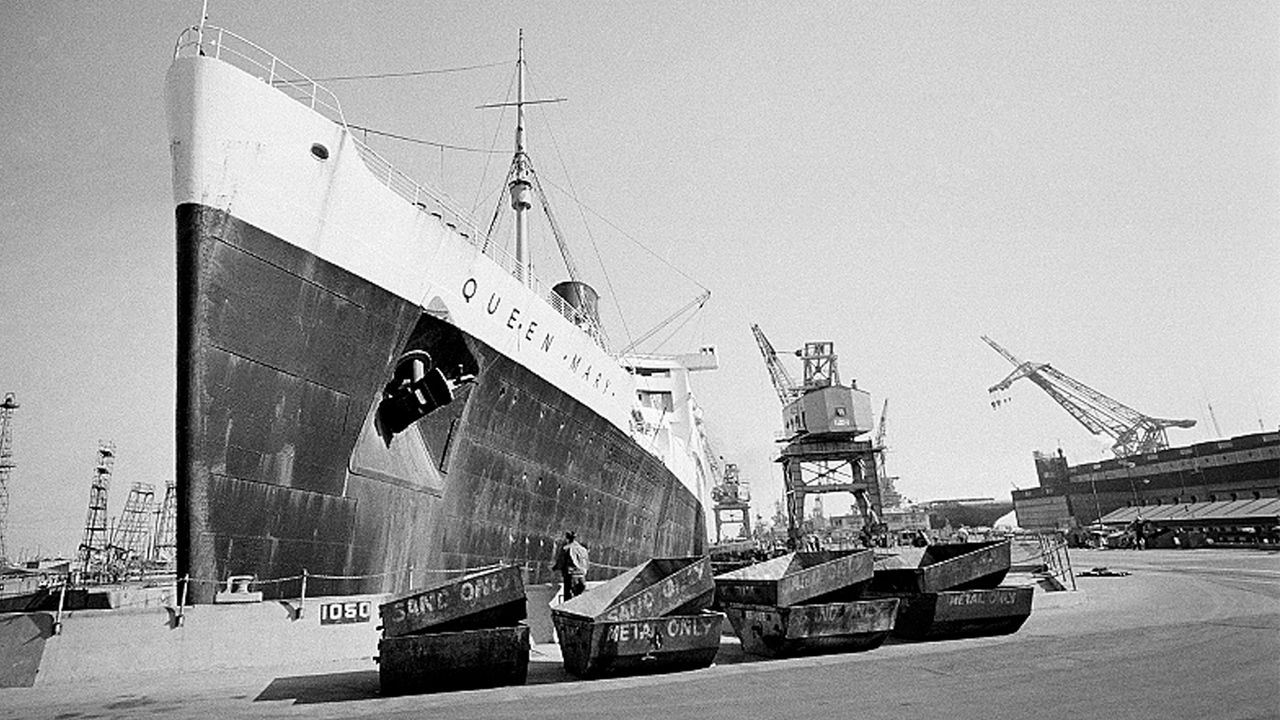 (AP Photo)
Pico House
Located in the historic El Puebla de Los Angeles, Pico House was LA's first major hotel when it was built in 1870. Now a historic landmark, workers and visitors to Pico House have reported phenomena ranging from mysterious shadows and the sounds of footsteps to, in Leib's experience, unexplained electrical interference with technology.
"The Pico House is right by my house, and I worked on a TV show that filmed right outside of it. Lots of crazy electrical stuff happened on that set that we couldn't explain, and it's one of those places that is super public and historic but doesn't often get the haunted cred it deserves," she said. 
It's not clear who the alleged ghosts haunting the site are. Some say it's Pio Pico, the last Mexican governor of California for whom the original hotel was named. Others attribute the hauntings to the Chinese Massacre of 1871.
"Go hang out outside at night, you might see something through its lower or upper floor windows," offers Leib.
The Roosevelt Hotel
Steeped in Hollywood glamour, it's perhaps fitting that the Hollywood Roosevelt Hotel is allegedly home to a number of celebrity hauntings. Leib describes it as "a kind of high-voltage Hollywood haunted area."
Marilyn Monroe is rumored to haunt her old room, according to a maintenance worker who spoke to The Hollywood Reporter. The haunted visages of Montgomery Clift and Carole Lombard are also said to dwell in the elegant hotel, which opened in 1927 and played host to the first Oscars.
"The pool, the elevators and the room that housed the first Oscars are super active," said Leib. "When we went, the medium we went with said the graves of those at Hollywood Forever have a similar energy to the Roosevelt. Lots of deaths on the second floor, gunplay was also mentioned."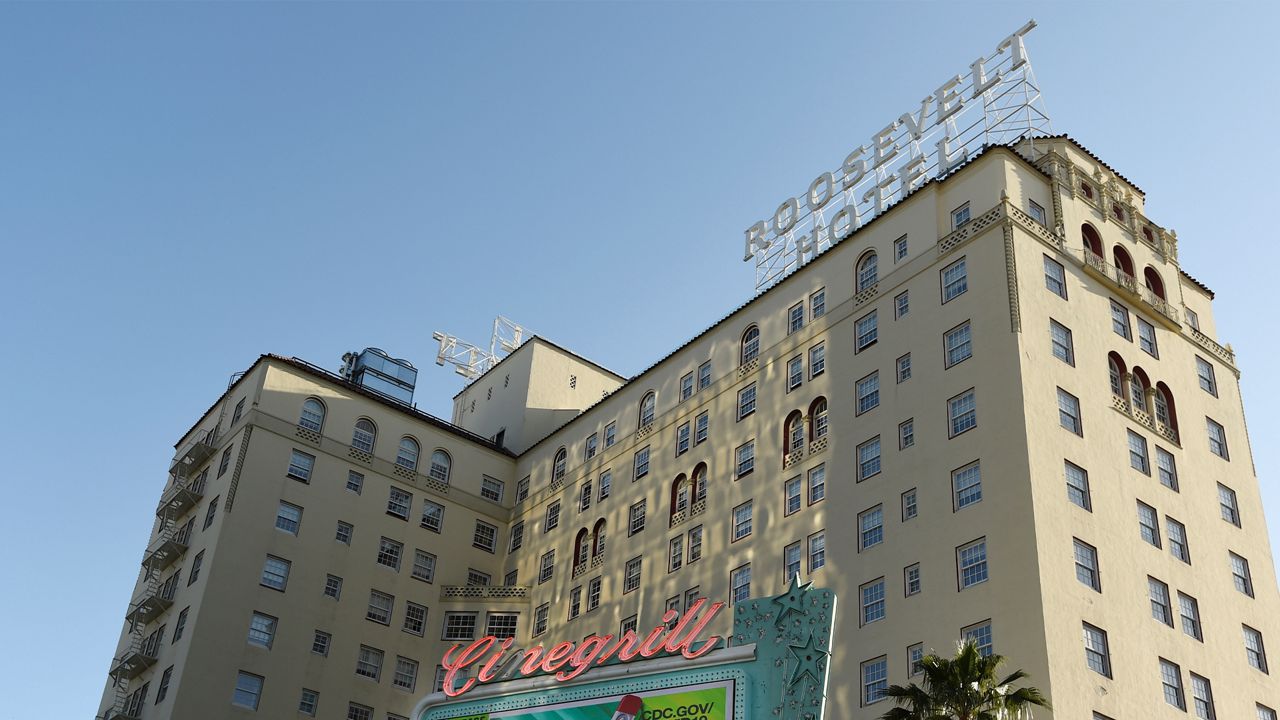 (AP Photo/Chris Pizzello)
Hollywood Forever Cemetery
The last resting place of several noted celebrities, ranging from silent screen star Rudolph Valentino to punk guitarist Johnny Ramone, the Hollywood Forever Cemetery is said to be home to a number of spooks.
"My grandfather and great grandparents are buried here, and I gave a tour of the place for our live show," explained Leib. "The problem is that historically, all of the owners were absolutely horrible people — swindlers and crooks — and sold off parts of the land to Paramount and the strip mall across the street. So there are probably some bodies over at both of those places."
One commonly sighted ghost at the cemetery is a woman who is seen crying at a lake on the property.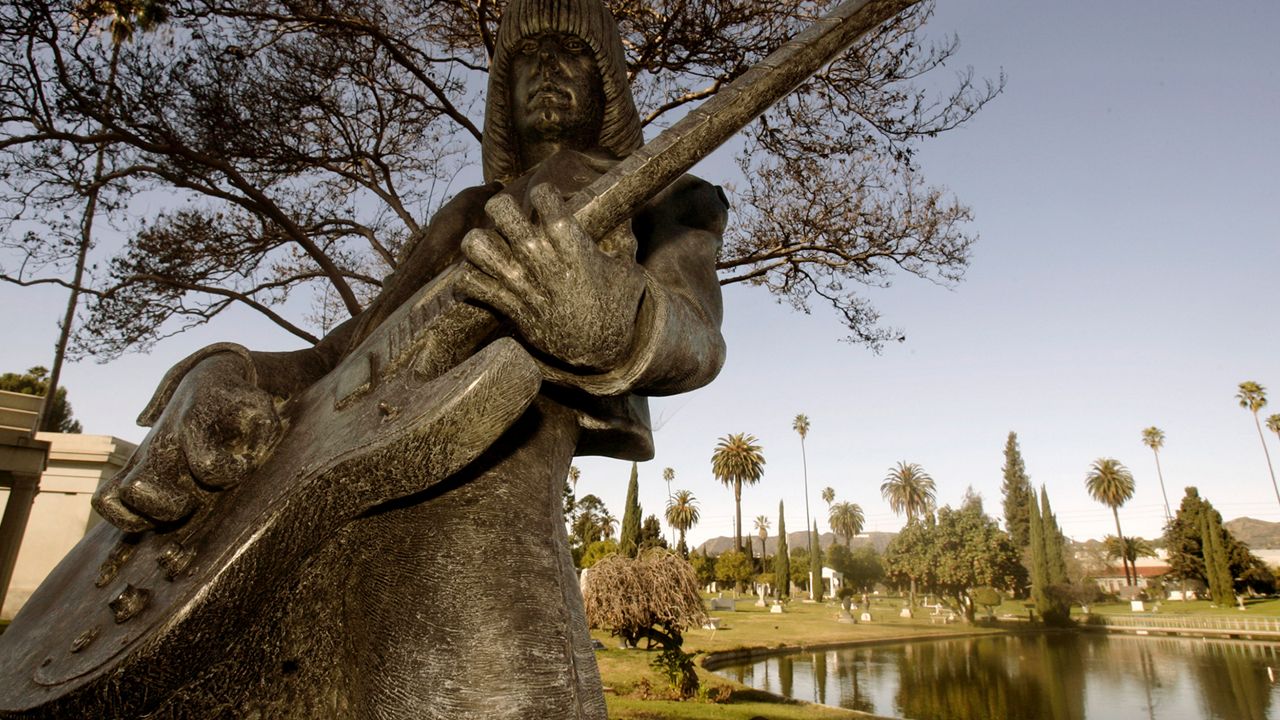 (AP Photo/Ric Francis)
The Los Feliz Murder House
It's rare for a Spanish Colonial-style home on a quiet, leafy street in the Hollywood Hills to sit vacant for decades — unless perhaps that home was the site for a notorious unexplained murder-suicide. Such is the case with the infamous Los Feliz Murder House, where in 1959, a successful doctor murdered his wife and attacked his daughter before taking his own life.
Although the home has changed hands many times in the ensuing decades, it has largely remained unoccupied.
"I went to this house on Halloween and when I approached the front gate, where a cement block was holding the gate closed — as if something was trying to be kept in, and not let out. It was a terrifying experience, and I didn't stay long," Leib said.
The Houdini House
An Edwardian estate built in Laurel Canyon in the early 1900s, the biggest mystery around the Houdini House centers around whether the magician ever actually lived there. The house was owned by Houdini's friend, department store owner Ralph M. Walker and is equipped with a deep water tank Houdini reportedly used to practice his escapes. It's also connected to a mysterious network of tunnels and caves. 
"I hosted an event there for Atlas Obscura and immediately did not want to be there," recalled Leib. "As kids, both my dad and grandfather used to try and break into the mansion and couldn't quite get in, but it was funny how when I got in I just wanted to get the 'eff out. Not fun. Very pretty place though!"
For more on these and other paranormal locations, true crime and strange history around SoCal, check out the Ghost Town Podcast and subscribe to their YouTube channel.
Read More On This At "Paranormal, Ghosts, Hauntings" – Google News