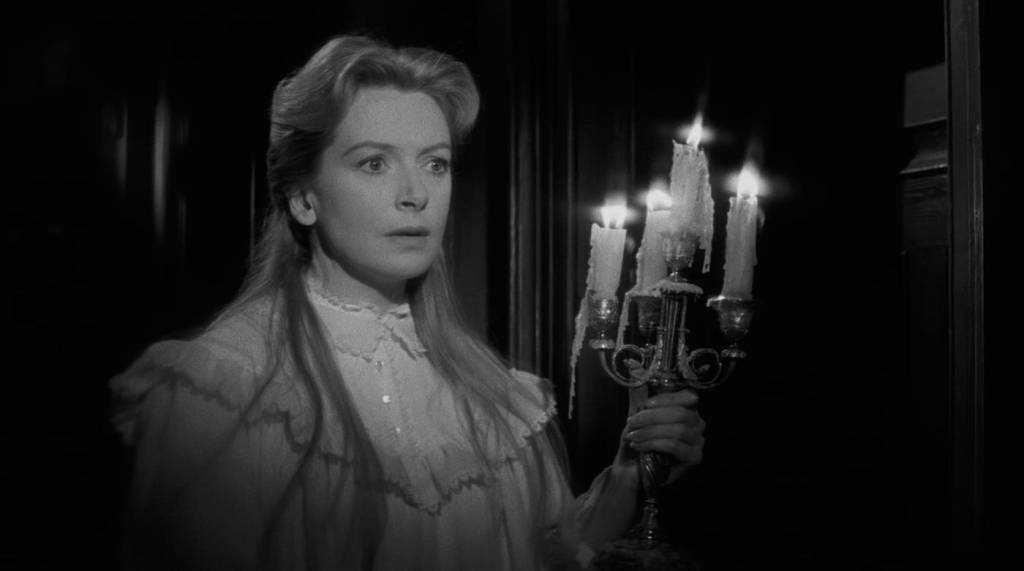 8. The Innocents (1961)
The ghosts are both metaphoric and literal in Jack Clayton's The Innocents, where sexual repression and childhood curiosity are a lethal mix. Henry Jamess 1898 novella The Turn of The Screw has been adapted 27 times for the screen. The Innocents is the most faithful, even if it personalizes the details on the broader brush strokes. The screenplay was co-written by Truman Capote and William Archibald, the playwright of the 1950 stage adaptation. They imagined it as a ghost story. It is entirely possible the governess acts on spectral evidence only her mind could see, but from the camera's perspective, the ghosts are real. Young Flora (Pamela Franklin) and Miles (Martin Stephens) recently lost their parents, and their hastily hired new governess Miss Giddens (Deborah Kerr) has much to learn about them and the manor they call Bly.
The former governess, Miss Jessel (Clytie Jessop), resigned under vague circumstances, but may have left something behind. A fired valet, Peter Quint (Peter Wyngarde), was a drunk and a roustabout whose musk can still be discerned in the walls. While she may find the spectral evidence alluring, Kerr's Miss Giddens is a generation older than the character in the book, and concerned with the responsibilities of more adult topics. "Most of all, I care about the children," she insists, but the children are, to put it nicely, disconcerting.
Precocious and vaguely unnatural, every phrase from their lips teeters between innocent flattery and threatening suggestion. When Miles is expelled from school as a bad influence, Miss Giddens is empathetic. She likes a boy with spirit and senses an older soul. "Oh, miss, are you afraid he'll corrupt you?" housekeeper Mrs. Grose (Megs Jenkins) laughs, perhaps too indulgently. It's creepy.
7. The Legend of Hell House (1973)
Director John Hough's The Legend of Hell House, adapted by Richard Matheson from his 1971 novel Hell House, is a spooky paranormal investigation film with an endless supply of chandeliers to drop. Wealthy Rudolph Deutsch (Roland Culver) wants to know what lies after death, and is almost willing to kill himself to find out. He hires, at exuberant rates, physicist Dr. Lionel Barrett (Clive Revill), his sensitive wife Ann Barrett (Gayle Hunnicutt), and mental medium Florence Tanner (Pamela Franklin) to go that extra mile. Roddy McDowell plays physical parapsychologist Benjamin Franklin Fischer, who is reluctant to join the fun. He is the only survivor of a previous on-site investigation of the Belasco House, notorious as "Hell House" after its infamously decadent owner disappeared in the aftermath of a massacre within its walls
"In the name of God, what did he do to make this house so evil?" Ann asks. "Murder, vampirism cannibalism, drug addiction, alcoholism, sadism, mutilation," Fischer answers. How did it end? "If it had ended, we would not be here," Fischer warns. Strapped to bio-monitors, and surrendered to the abyss, the researchers open themselves to the fates of prior victims who now haunt the estate. Considerate enough to drop ectoplasmic residue in jars, the ghostly bully collects power from the interloping investigators. But he is powerless against Fischer's incessant height-shaming. Be sure to lock the door on your way out.
6. Ghost Story (1981)
Ghost Story opens with John Houseman's Sears James, Esq., telling a terrifying tale as if he were sitting around a campfire in John Carpenter's The Fog (1980), which opened with the same unmistakable voice. He is talking to the "Chowder Society," an informal men's club who sip brandy, sniff cigars, and scare each other with horrific improvisations. The elderly orating attorney is normally drinking alone in his den all night, every night. He is afraid to fall asleep; nightmares also plague his former partner, the businessman Ricky Hawthorne (Fred Astaire); and Dr. John Jaffrey (Melvyn Douglas) screams himself awake from terrible dreams. The mayor of the snowy New England town of Milburn, Vermont, Edward Charles Wanderley (Douglas Fairbanks, Jr.), is downing a double shot of night terrors. His son David Wanderley (Craig Wasson) appears to have gotten himself engaged to a rotting corpse, and she looks like the Chowder Society muse.
Read More On This At "Paranormal, Ghosts, Hauntings" – Google News