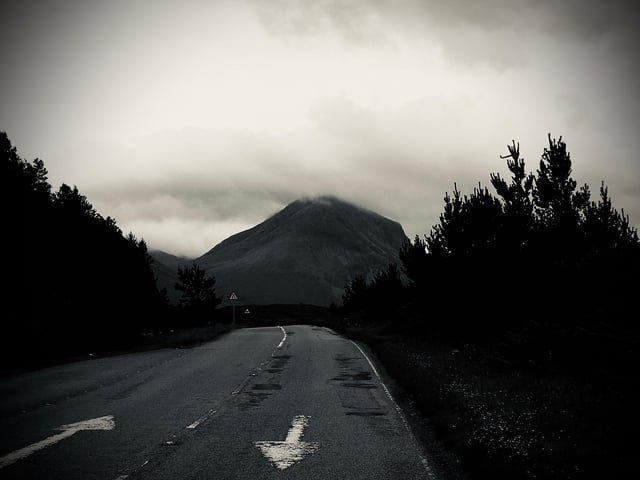 The A87 Sligachan to Portree road on Skye is said to be haunted by a phantom Morris Minor. PIC: Rudi Winter/geograph.org.
1.The Kinmount Straight – A75
The stretch between Carrutherstown and Annan has been the site of plenty of paranormal activity.
Screaming hags, eyeless phantoms and a menagerie of unearthly creatures have all been witnessed on this road, which has often been described as Scotland's most haunted.
One of the most infamous sightings was made by Derek and Norman Ferguson in 1962 when a paranormal experience started to unfold as they drove.
Large hens started flying towards the windscreen of their car with large cats and other creatures starting to appear. Also emerging was the sight of a phantom furniture van.
A common sighting was groups of bedraggled people pulling handcarts or carrying bundles.
The Kinmount Straight is a popular overnight stop for lorry drivers with one driver apparently witnessing a 'parade of people' around 3am in the morning.
It is understood he never stopped on the stretch again.
2.Overtoun Bridge, West Dunbartonshire
The bridge in the grounds of Overtoun House is said to have a terrifying effect on dogs, so much so that more than 300 animals are said to have thrown themselves off the stone crossing .
The bridge is said to be haunted by the White Lady of Overtoun, the ghost of the grieving widow of the former estate owner, John White.
Some, however, say it is the smell of animal carcasses in the woods below that are compelling dogs to launch themselves over the side.
Several sightings of a ghost car or truck have been made on this stretch between Sligachan and Portree with some saying the phantom vehicle was a 1934 Austin.
The vehicle was first reported in 1941 by Dr Allan MacDonald, who pulled over to let the car by when he saw it travelling at speed along the then single track road.
It is said the strange vehicle appeared after a road accident which caused the driver, a church minister, to lose his sanity.
A 'hellhound' with glowing red eyes is said to patrol this stretch of road. The beasts are known as guardians of the underworld and carry a stinking odour and move at supernatural speed.
Just north of Blairgowrie, it is said a 'huge' hellhound makes 'normal dogs nervous and horses shy'.
Legend has it that if you stare straight into a hellhound's eyes three times, you'll die.
The apparition of the 'Beast of Odal' is said to have haunted the Pass of Odal from Kylerhea (Caol Reatha) to the Sound of Skye. The ghost apparently changed shape and sometimes appeared in the shape of a man with one leg. On other occasions, it appeared like a greyhound.
Workmen building the first public road through the pass were left terrified by the beast "uttering frightful shrieks" in the dark of night.
Those who traveled through the pass were often hurt during their journeys, which were usually fraught with difficulty and hidden dangers.
The haunting reportedly ended when a man was found dead at the roadside. His body was pierced with two wounds, which were not believed to have been caused by a human.
A message from the Editor:Thank you for reading this article. We're more reliant on your support than ever as the shift in consumer habits brought about by Coronavirus impacts our advertisers.
If you haven't already, please consider supporting our trusted, fact-checked journalism by taking out a digital subscription.
Read More On This At "Paranormal, Ghosts, Hauntings" – Google News